Cattle carcass automatic processing line(station stepper)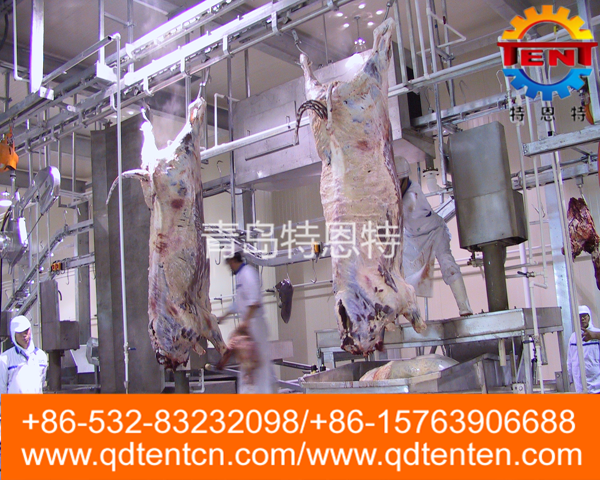 details
This series of products is developed by our company with reference to foreign advanced equipment. It is used for automatic transportation of cattle slaughtering process. According to different slaughtering, it can be divided into five working stations, seven working stations and nine working stations etc. Generally, the maximum is 21 stations; the spacing between stations is 2400mm.
The equipment uses automatic PLC control to make the mechanical transmission system work together with the pneumatic transmission, using the station control; it can also be used in the sheep and horse slaughter line.
The machine is used to transport cattle from the transfer platform along the processing areas to the inspection and weighing area. Stepper transport. The conveyor is a vertical structure. Hot dip galvanizing. Including: closed roller rail, pipe rail, pneumatic stretch device, drive unit (stepping), time regulator, pneumatic tensioning device, secondary expansion device, descending curved rail, buffer rail, hanger, nylon roller, Chain. With turn out, the spacing of the carcass (station spacing): 2100mm.
Products Center Products Center
CONTACT US
Hotline:
+86-532-83232098
E-Mail:sales01@qdtent.com
addr:No. 1, Minan Road, Jiaoxi Industrial Park, Jiaozhou, Shandong, China
Aaron
Whatsapp:+8615763906688
Wechat:+8615763906688
Email: sales01@qdtent.com
Andy
Whatsapp:+8615969856551
Wechat:+8615969856551
Email:sales04@qdtent.com
Yolanda
Whatsapp:+8615969858075
Wechat:+8615969858075
Email:sales05@qdtent.com
Nancy
Whatsapp:+8615092165018
Wechat:+8615092165018
Email:sales02@qdtent.com
Peter
Whatsapp:+8615963236197
Wechat:+8615963236197
Email:sales03@qdtent.com
Telephone: +86-0532-83232098
Mobile:+8615763906688
Hot Products