Sheep dehairing machine(2)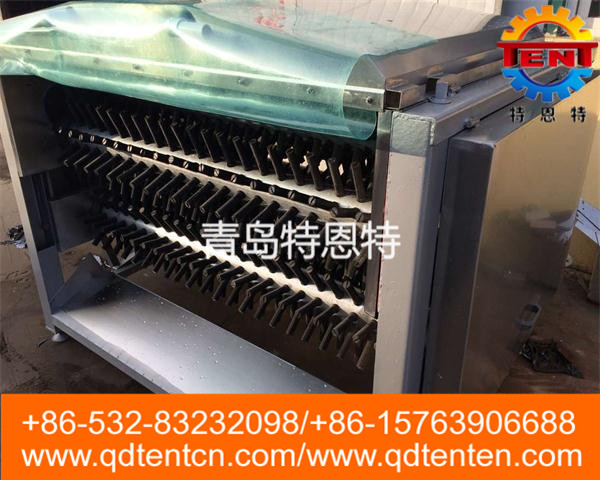 details
product description
The sheep flat hair machine adopts a multi-roller structure, and the four columns support the upper and lower two-layer drums. The rotating roller drives the hair stick to remove the hair from the sheep. The lifting mechanism adjusts the gap between the upper and lower rollers to adapt to different sheep hair removal requirements, and has the advantages of wide adaptability, good hair removal effect, compact structure, beautiful appearance, convenient use, adjustment, and maintenance.
Structure and hwo to use it:
1) Working principle: There are two rows of upper and lower hair rollers in the body to form a tunnel type. The sheep slides into the machine through the inlet chute, and the motor drives the hair roller to rotate. Then, the hair stick on the hair roller is rotated to make the sheep entering the tunnel quickly roll, and the sheep body and the hair stick are rubbed together to achieve the purpose of hair removal. Finally the sheep slipped out of the exit.
2) 2) The sheep must be scalded before come into dehairing machine. The effect of the scalding effect directly affects the hair-punching effect of the hair-punching machine. So choose different temperatures depending on the sheep breed. And the temperature of the sheep's head is not the same as the temperature of the sheep's body. The temperature required for the sheep's head is higher. Seasonal differences will also vary.
3) 3) During the process of dehairing, the water spray pipe in the machine body needs to be connected to warm water of 60~65°C to ensure the hair-cutting effect, and at the same time, the hair, blood, ash and other debris on the sheep body can be washed away.
Products Center Products Center
CONTACT US
Hotline:
+86-532-83232098
E-Mail:sales01@qdtent.com
addr:No. 1, Minan Road, Jiaoxi Industrial Park, Jiaozhou, Shandong, China
Aaron
Whatsapp:+8615763906688
Wechat:+8615763906688
Email: sales01@qdtent.com
Andy
Whatsapp:+8615969856551
Wechat:+8615969856551
Email:sales04@qdtent.com
Yolanda
Whatsapp:+8615969858075
Wechat:+8615969858075
Email:sales05@qdtent.com
Nancy
Whatsapp:+8615092165018
Wechat:+8615092165018
Email:sales02@qdtent.com
Peter
Whatsapp:+8615963236197
Wechat:+8615963236197
Email:sales03@qdtent.com
Telephone: +86-0532-83232098
Mobile:+8615763906688
Hot Products