Half splitting belt saw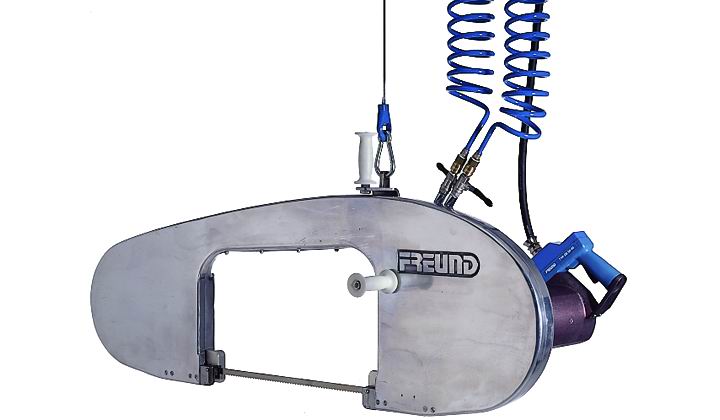 details
Advantage:
1. Suitable for large slaughterhouses for half-splitting of cattle and horse
2. The advanced guidance system makes the saw longer life
3. Moderate thickness of saw blade to reduce loss of bone and meat.
4. The saw blade is thin and fast, and the saw blade is replaced quickly, with large production capacity and high efficiency.
5. Compact, powerful low voltage motor, safe and reliable
6. A smooth and completely sealed motor makes cleaning convenient and fast.
7. The machine doesn't shake and the noise is low
8. The separated and sealed gear mechanism provides good running and long life.
9. The surface design is smooth, the motor is completely sealed (without cooling fin), which makes cleaning convenient and thorough.
Technical parameters:
1. weight:65kg 2.shape size:1550mm
2. Saw belt:3224mm 4.Cutting depth:500mm
5. voltage:42V 3phase 50Hz 6.power:2300w
7.frequency:50/60Hz 8.Safeguard:IP65
Products Center Products Center
CONTACT US
Hotline:
+86-532-83232098
E-Mail:sales01@qdtent.com
addr:No. 1, Minan Road, Jiaoxi Industrial Park, Jiaozhou, Shandong, China
Aaron
Whatsapp:+8615763906688
Wechat:+8615763906688
Email: sales01@qdtent.com
Andy
Whatsapp:+8615969856551
Wechat:+8615969856551
Email:sales04@qdtent.com
Yolanda
Whatsapp:+8615969858075
Wechat:+8615969858075
Email:sales05@qdtent.com
Nancy
Whatsapp:+8615092165018
Wechat:+8615092165018
Email:sales02@qdtent.com
Peter
Whatsapp:+8615963236197
Wechat:+8615963236197
Email:sales03@qdtent.com
Telephone: +86-0532-83232098
Mobile:+8615763906688
Hot Products