singeing furnace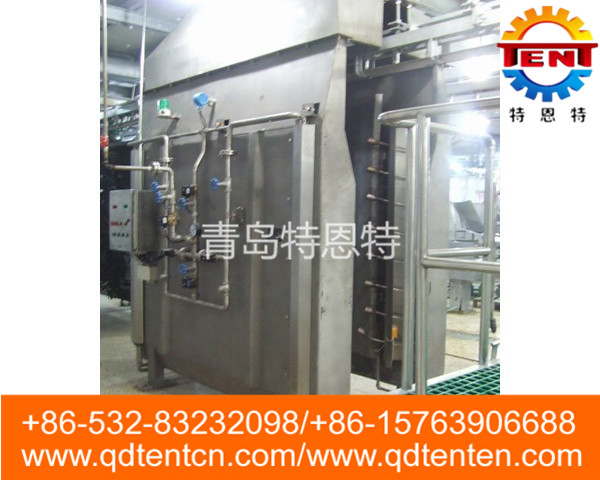 details
Equipment use:
This is used for carcass hairy treatment after dehairing work,removal of residual fluff to make pig carcass hygienic without residual hair.
equipment characteristics:
1.Fuel: liquefied petroleum gas (LPG) and natural gas.
2.The equipment adopts gas leakage alarm system.
3.Automatic ignition device
4.It does not pollute the pig's carcass.
5.The flame can be adjusted.
6.After the unit action is finished, kindling is left to avoid frequent ignition.
Technical parameters:
1) production capacity: 3000 /8 hours
2) hairy time (adjustable): 2 ~ 6/S
3) use voltage: AC 220V
4) control voltage: 24V DC
5) every pig needs fuel: less than 0.6 cubic meters
6) gas working pressure: 0.1 ~ 0.25MPa
7) outline size: 2200 x 1200 x 3000mm (long * width * height)
8) equipment weight: 800Kg
Products Center Products Center
CONTACT US
Hotline:
+86-532-83232098
E-Mail:sales01@qdtent.com
addr:No. 1, Minan Road, Jiaoxi Industrial Park, Jiaozhou, Shandong, China
Aaron
Whatsapp:+8615763906688
Wechat:+8615763906688
Email: sales01@qdtent.com
Andy
Whatsapp:+8615969856551
Wechat:+8615969856551
Email:sales04@qdtent.com
Yolanda
Whatsapp:+8615969858075
Wechat:+8615969858075
Email:sales05@qdtent.com
Nancy
Whatsapp:+8615092165018
Wechat:+8615092165018
Email:sales02@qdtent.com
Peter
Whatsapp:+8615963236197
Wechat:+8615963236197
Email:sales03@qdtent.com
Telephone: +86-0532-83232098
Mobile:+8615763906688
Hot Products